BIODIVERSITY & BIOGEOGRAPHY
Number of oak species in Europe and North Africa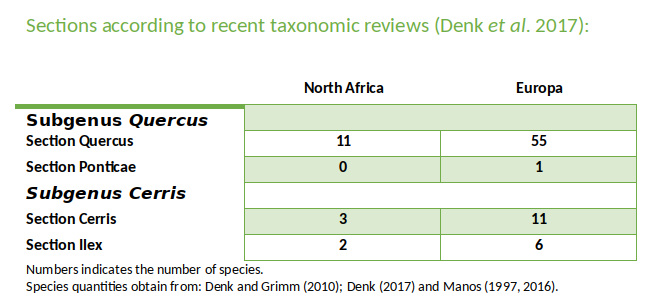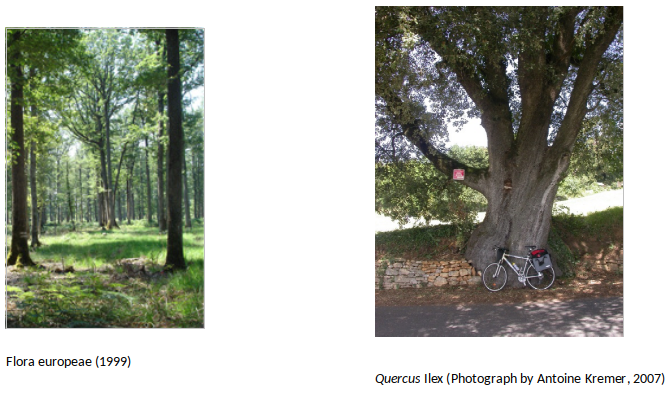 References
Camus, A. 1936-1954. Les chênes, Monographie du genre Quercus et Monographie du genre Lithocarpus. Encyclopédie Economique de Sylviculture. Vol. VI, VII, VIII. Editions Lechevalier (Paris)
Denk T., Grimm G.W. 2010. The oaks of western Eurasia: Traditional classifications and evidence from two nuclear markers. Taxon 59 (2).
Denk T., Grimm G.W., Manos P.S., Deng M., Hipp A.L. 2017. An Updated Infrageneric Classification of the Oaks: Review of Previous Taxonomic Schemes and Synthesis of Evolutionary Patterns. Oaks Physiological Ecology. Exploring the Functional Diversity of Genus Quercus L. Springer International Publishing. 547 pages.
Manos PS 1997. Quercus Sect. Protobalanus (Trelease) A.Camus. In: Flora of North America Editorial Committee (ed) Flora of North America North of Mexico, vol 3. Missouri Botanical Garden Press, St. Louis, p 468ff
Manos P. 2016. Mighty oaks from little acorns grow: Phylogenomic data add new branches to the Quercus tree of life. Presentation at the IUFRO Genomics & Forest Tree Genetics. Arcachon, France.